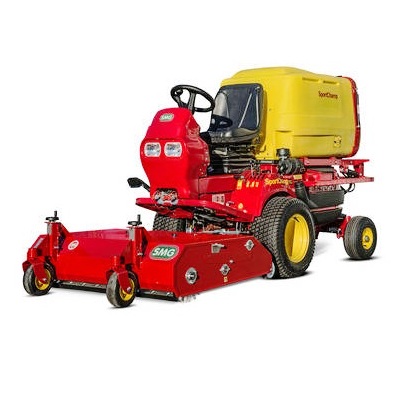 Category: SMG Advanced Maintenance Equipment
Product Code: SC2BL
Multifunctional ride-on machine for the advanced maintenance of artificial turf
The SportChamp, the leading machine in the world market, is the solution for the maintenance of different synthetic sport surfaces within a sports facility. By the use of different attachments all synthetic sport surfaces can be cleaned and maintained according to the manufacturer's instructions and beyond that for an efficient and economic upkeep of the surface.

During weekly use, the SportChamp levels the infill material of filled surfaces with the rotary brush and eliminates contamination at the same time. Thus the infill material will be loosened and the fibre will be put upright again.

Fibres lying loosely on the turf and even well-rehearsed fine dirt will be vacuumed in a large-volume filter box during the surface maintenance by the proven extraction system. The filter unit is controlled automatically and cleaned within minutes. It will be evacuated - controlled hydraulically - quite conveniently while sitting on the driver seat.

Numerous attachments facilitate and expedite the necessary maintenance tasks. The range includes attachments for the winter services and the refilling of infill material, for the removal of leaves, the loosening of extreme compaction and the spraying of care products. The application area of the SportChamp is enlarged by additional attachments for non-infilled artificial turf, synthetic sports surfaces or sidewalks. Thereby it is the multifunctional care and maintenance machine for your sports facility.

Beside the classic, weekly maintenance tasks the SMG SportChamp can additionally carry out the annual basic and deep cleaning.
Removable attachments
Rotating brush 1.000 mm Art.-No. 6400029
Rotating brush 1.500 mm Art.-No. 6400017
Rotating brush 1.100 mm Art.-No. 6211213
Opposed brush Art.-No. 6400177
Decompacting brush Art.-No. 6400132
Rigid brush - Front-mount attachment Art.-No. 6400093
Sweeping brush Art.-No. 6400027
Decompacting- / Levelling device - Rear-mount attachment Art.-No. 6400080
Spreading device 800 mm Art.-No. 6400133
Spreading device 1400 mm Art.-No. 6400167
Snow blower device Art.-No. 6400012
Snow plough Art.-No. 6400039
Vacuum hose device Art.-No. 6400125
Foliage vacuum device Art.-No. 6400112
Spray device Art.-No. 6400025
Magnet bar for artificial turf maintenance Art.-No. 6220297
TurfCare TCA1400 Art.-No.: 6400160
TurfScout TS1400 Art.-No.: 6220075
TurfTuner TT1600 Art.-No.: 6215153
Technical information:
| | |
| --- | --- |
| Drive | SC2BL: 2-cylinder petrol engine, air-cooled, 22 PS |
| Traction drive | hydrostatic, driving Speed up to 10 km/h, hydraulic lifting device for accessory attachments and filter box; Differential lock |
| Capacity of tank | approx. 30 litre |
| Brush working width | according to brush: 900 - 1.600 mm |
| Weight | starting at approx. 680 kg |
| Dimensions | L 2.800 x B 1.320 x H 1.283 mm |