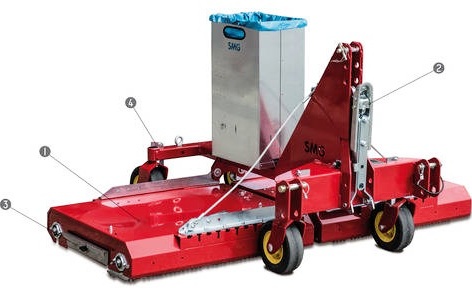 Category: SMG Advanced Maintenance Equipment
Product Code: TS1400
Ground driven, tow-behind device for the cleaning and care of artificial turf


The TurfScout TS1400 cleans and maintains the surface of sand and rubber infilled artificial turf pitches. Due to its wheel drive the TurfScout TS1400 is independent of any hydraulic or power shaft drives. The three-point hitch with integrated tow bar additionally enables the use with any kind of lawn or compact tractors.

Both the working depth of the brush and the variable settings of the stainless steel sieve trays are adjustable. Hence, the TS1400 can be precisely adjusted according to the degree of the surface pollution and the grid size of the infill material. If the sieve tray is being replaced by a sieve plate, the TurfScout also cleans non-filled artificial turf. The compact dimensions enable passing of narrow doorways.


The TurfScout TS1400 is the perfect "aide" for all types of artificial turf maintenance equipped with a dirt pan to empty the trays, a rake and a infill shovel for working in border and goal areas and penalty spots.
Details
TurfScout TS1400
TurfScout TS1400
TurfScout TS1400
TurfScout TS1400
Technical information:
Working width1.400 mmDimensionsL 1.200 x W 800 x H 900 mmWeight165 kg

For more information visit www.smg-gmbh.de