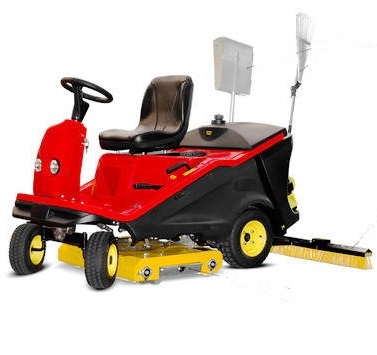 Category: SMG Advanced Maintenance Equipment
Product Code: TB1
Ride-on machine for the care of artificial turf
TurfBoy TB1 is driven by a 2-cylinder 16 HP air-cooled petrol engine. The ground-driven rotary brush eliminates suspended particles, abrasion and dirt particles from the top surfaces. Its working width is 700 mm.
The vibrating screen can be precisely adjusted, with variable settings from 4 to 10 mm, depending and in accordance with the condition of the infi ll material.
The now cleaned infill material will be dosed and returned to the system as well as the fibre will be put upright again.
TurfBoy TB1 is equipped with a fold-out drag brush and a hitch to pull additional attachments like triangular brush DB1600, TurfCare TCA1400 or a ground-driven spreader. TurfBoy TB1 is equipped with a rake and a perforated shovel for infill to clean the edges.
Details
Expanded drag brush, working width 1.600 mm
Ground driven rotary brush with adjustable vibrating screen from 4-10 mm
TurfBoy TB1 with drag brush DB1600
Technical information:
| | |
| --- | --- |
| Drive | 2-cylinder petrol engine, air-cooled / 12 kW (16 HP) |
| Traction drive | hydrostatic, driving Speed up to 12 km/h |
| Working width | 700 mm |
| Weight | 380 kg |
| Dimensions | L 1.800 x B 900 x H 1.200 mm |