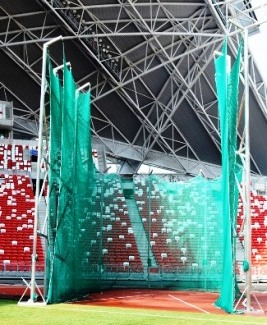 Category: Hammers, Discus, Shot Put, and Javelin
Product Code: 30290/D
Safety cage for hammer- and discus throwing, 7 / 10 metres high.
With Double Net
Manufactured from stable aluminium profiles and fitted with a high quality
safety net. Made in conformance with IAAF and with IAAF certification!
The uprights for our large safety cage are made from high-quality
Oval aluminium profiles (cross section 120 x 100 mm, wall thickness
4 to 6 mm).As an additional reinforcement the 10 m-uprights are
strengthened with internal special aluminium profiles.
The aluminium construction combines enormous stability with ease
of handling.
During competitions, the cage is easy to use:
- One person can easily adjust the gates to suit the thrower.
- During competition breaks, the net can be raised or lowered within
minutes.
Uprights are made of aluminium special profiles and conform to our static
calculations.
One cage comprises:
- 6 uprights 7.00 m
- 4 uprights 10 m
- 2 gates
- 10 handle
- 6 hinge
- 10 spacer
- 2 trolleys for adjusting the gates
- 2 safety net incl. 24 fastening ropes
- 2 Stainless steel wire for start & end net to fix the net correctly to the gate
IAAF certified
Please note:
The uprights are manufactured with a diameter 100 x 120 mm
and a wall thickness of 4 - 6 mm according to our static calculations.
Nonetheless, at wind velocities exceeding 10 m/s, the net should be
completely lowered to the ground in order to prevent storm damage.